Zhengzhou Sunrise Refractory Co., Ltd. is mainly engaged in the production and development of refractory materials for glass , petrochemistry, metallurgy, construction and nonerrous metal industries. Our main products include fused cast AZS 33, 36,41, fused cast β alumina brick, crucibles, furnace fireclay bottom block, silica, high alumina, magnesia, corundum, chrome, zircon, mullite, zirconia mullite, silicon carbide, sillimanite, alumina bubble bricks, various insulation bricks, and ceramic fiber products,etc.
Product Features:
1. Low permanent linear change on reheating
Firing under the temperature of 1050 Degree. Ensures no distortion and no permanent linear change on the mold bricks.
2. High dense structure
MD Mold Brick is manufactured from micron grade material, which is pressed molding following being mixed by high speed blender. The maximum rod is 1000 with extremely fine section structure.
3. Good Thermal Shock Stability.
No cracks even chap would be happening after long service of the bricks
4. Easy to be machined.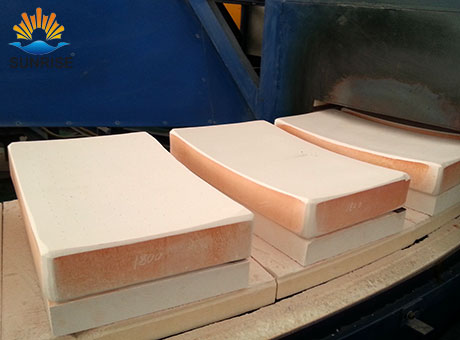 Product Application
The Mold Brick is manufactured based on the customer request, which avoids waste from cutting of the big blocks.
We have established good fame among our customers since our mold brick line was put into production with some performances superior to similar products available in the market.
MD mold bricks could also be used in thermal bending glass, thermal melting glass and art glass. We sincerely welcome the comments from all our customers.