With the development of the world automobile industry in recent years the technology on rearview mirror is also greatly improved, as demands a higher request on Glass Mould Bricks in terms of its performance and quality. We have been working on the research and development. of Glass Mould Bricks since 2000, and in March 2003 success was achieved in the trial manufacture, in Sep 2003 a Glass Mould Bricks production line was established, and we are now a factory specialized on Glass Mould Bricks for Viewing Mirrors.

Glass Mould Bricks characterize as follows:
1. Low permanent linear change on reheating
Firing under the temperature of 1050 Degree. Ensures no distortion and no permanent linear change on the Glass Mould Bricks.
2. High dense structure
Glass Mould Bricks is manufactured from micron grade material, which is pressed molding following being mixed by high speed blender. The maximum rod is 1000 with extremely fine section structure.
3. Good Thermal Shock Stability
No cracks even chap would be happening after long service of the Glass Mould Bricks.
4. Easy to be machined
The Glass Mould Bricks is manufactured based on the customer request, which avoids waste from cutting of the big blocks.
We have established good fame among our customers since our Glass Mould Bricks line was put into production with some performances superior to similar products available in the market.

Glass Mould Bricks could also be used in thermal bending glass, thermal melting glass and art glass. We sincerely welcome the comments from all our customers.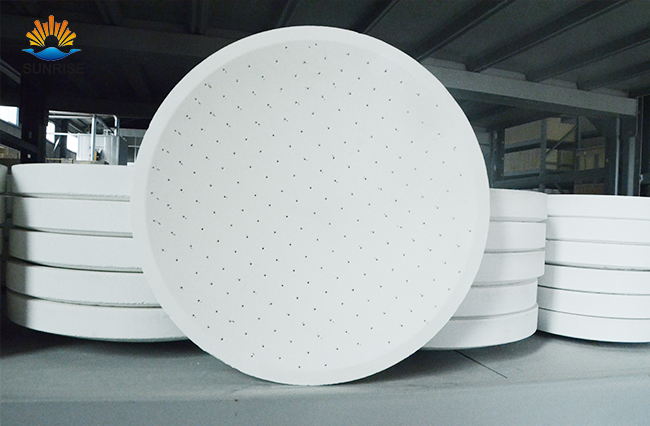 MD Product Dimension List:
| | | | |
| --- | --- | --- | --- |
| No. | L(mm) | W(mm) | H(mm) |
| 1 | 450 | 250 | 25-150 |
| 2 | 450 | 320 | 25-150 |
| 3 | 300 | 300 | 25-150 |
| 4 | 380 | 300 | 25-150 |
| 5 | 510 | 270 | 25-150 |
| 6 | 510 | 510 | 25-150 |
| 7 | 440 | 360 | 25-150 |
| 8 | 600 | 480 | 25-150 |
| 9 | 500 | 380 | 25-150 |
Besides the specifications as listed above we meet your satisfaction based on customer requests, any problem don't hesitate to contact us Physical and chemical index
Item
Behaviors
TY-MD
Typical Chemical Composition %
Al2O3
≥25
Fe2O3
≤1.5
Cold Crushing Strength Mpa
≥10
Cold Bending Strength Mpa
≥1.5
Permanent Linear Change(%) 1000℃X24h
≤0.5
Thermal conductivity 350±10℃(W/m.k)
≤0.35
Bulk Density(g/cm3)
≥1.0
Grain Size (mesh)
≤200