Sunrise Refractory Fused zirconia corundum brick for sales p
The electric melting brick, also known as fused zirconium corundum brick, is abbreviated as AZS. It is based on the three chemical compositions of the Al2O3-ZrO2-SiO2 ternary phase diagram. It is arranged according to its content. Al2O3 takes A, ZrO2 takes Z, SiO2 Take S, JC / T industry standard uses this abbreviation, such as 33rd cast zirconia corundum brick, abbreviated as AZS-33#, and so on.
The refractory bricks made of sintered or fused mullite as the main material can be all made of mullite, some mullite can be used, and some are corundum. The former is called mullite refractory brick, the latter is called corundum-mullite refractory brick or corundum mullite brick. The production process of mullite refractory bricks is the same as that of high-alumina bricks. The ingredients are mixed, shaped, dried and fired. The firing temperature is related to the composition of the ingredients, the purity of the materials, and the requirements for the function of the refractory bricks, and is generally 1500 to 1700 °C.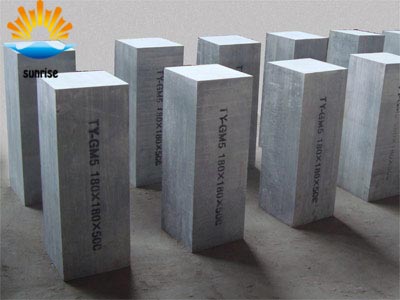 AZS fused cast brick manufacturing process, the selected zircon sand and industrial alumina powder are 1:1, plus a small amount of Na2O (added in the form of sodium carbonate), B2O3 (added in the form of boric acid or borax), evenly mixed After casting at 1800~1900 °C, it can be cast into a cast brick containing 33% ZrO2. On this basis, using partially desiliconized zircon sand as raw material, a cast brick containing 36% to 41% of ZrO2 can be obtained. Zirconia-corundum refraetory brick uses industrial alumina powder and selected zircon sand as raw materials to produce refractory products with a ZrO2 content of 33% to 45%. Lead corundum bricks are mainly used in glass industry tank kiln.
上一篇:
Sunrise Refractory Materials hot sale in the World
下一篇:
The use Precautions of Sunrise Refractory Brick Refractory B