Sunrise Refractory Co., ltd. is a professional manufacturer and supplier of refractory products in China's refractory base. Our company is China's largest refractories manufacturers, Our major products are refractory bricks, insulating bricks, refractory castable, refractory mortars, high alumina brick, high alumina castable, ceramic fiber blanket, ceramic fiber board, alumina ceramics and other industrial ceramics.
Sunrise refractory ceramic fiber module material has excellent properties such as temperature resistance, heat insulation, light weight and thermal shock resistance. Due to the wall lining of the ceramic fiber module, the furnace wall is light and the heat capacity is low, which can effectively increase the heating rate of the furnace, shorten the furnace operation cycle, and improve the furnace operation rate and operation flexibility. Because the furnace wall is light, no thermal expansion stress, and thermal shock resistance, the furnace steel can be saved significantly, and the high-efficiency and light kiln structure can be realized.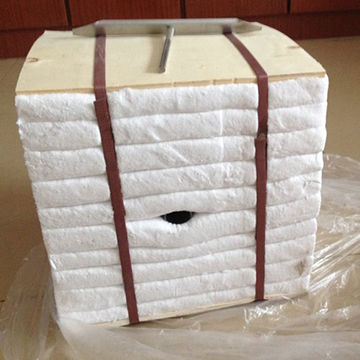 The ceramic fiber module replaces the traditional heavy refractory material as the industrial furnace wall lining material, which can effectively strengthen the thermal insulation structure of the industrial furnace, can effectively control the heat loss of the furnace body, and achieve the energy-saving effect. After the furnace is completed, it can be warmed up and put into production without the need of an oven program.
With the aid of stringent quality assurance systems, powerful technology & advanced equipments, our products enjoy good reputation both in China and abroad. Our foreign markets include USA, Germany, UK, Italy, Turkey, Russia, Japan, South Korea, India & South Africa.
If you are interested in our products or have any question, please feel free to contact us for further information. We sincerely look forward to establishing a long-term mutually beneficial relations with all friends from around the world.