According to the refractoriness required for high-temperature furnaces: the refractoriness is 1580-1770 degrees, the ordinary refractory material can be selected, the refractoriness is 1770-2000 degrees, the high-grade refractory material is required, and the refractoriness is higher than 2000 degrees. Choose premium refractory materials.
According to the chemical characteristics of high-temperature furnaces, there are generally three types: acid refractories, neutral refractories, and alkaline refractories. Refractories must be selected to correspond to chemical properties, otherwise chemical changes will occur at high temperatures, causing serious Loss.
According to the use of different refractory materials used in different industries, different refractory materials used in different refractory positions, refractory materials for steel industry for steelmaking; refractory materials for metallurgical non-ferrous metals industry. Petrochemical industry refractory materials for the petrochemical industry. Silicate refractories for glass kiln, cement kiln, ceramic kiln, etc.; refractory materials for power industry for power generation boilers; refractories for melting furnaces for waste incineration.
According to the effect of pre-laying, in general, we require refractory manufacturers to provide pre-laying effects, so that the specifications and quantity of refractory materials can be calculated. At the same time, we must provide manufacturers with refractory materials when purchasing, so that we can receive the goods according to the sample when delivery, to avoid the wrong version.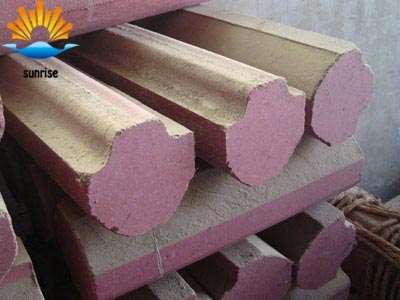 Brand problems, there are thousands of refractory manufacturers, big and small. If you buy special requirements and special-purpose refractory materials, you can find manufacturers of Sino-foreign joint venture brands, or manufacturers specializing in such special refractory materials. Of course, the price will be about 20% higher than domestic brands. The general refractory materials can be selected from domestic brands. At the same time, it is necessary to look at some information of the manufacturers. For example, whether they have passed ISO certification, business licenses, etc., you can also check the Internet or ask the nearest industry to find out which manufacturer to use. Refractory material.
After-sales service, we must choose a manufacturer with relatively close-to-sales service outlets, so that if an abnormal situation occurs after the furnace is built, the technicians of the manufacturer can quickly arrive to avoid the loss expansion. There are also warranty issues. Under normal circumstances, if there is any problem in the first year, the manufacturer must guarantee a free warranty for one year.
If you need refractory materials, or have this need, please contact sunrise refractory materials, we will solve all your concerns and guarantee to provide you with the best quality refractory bricks and very competitive prices.