Measures for prolonging the service life of sunrise refracto
According to the heating curve and feeding plan of the roasting kiln, it is safely and quickly put into operation. Pay attention to several key temperature sections, and it is necessary to heat up carefully to prevent refractory masonry deformation, brick cracking or falling off; basically ensure that the masonry can expand freely. Adjust the brace in time to avoid deformation of the refractory masonry or deformation of the steel structure; be careful when overheating to prevent the temperature from rising too fast.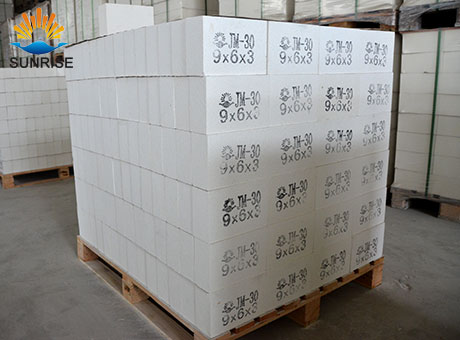 Operational procedures and post responsibility systems shall be implemented during the operation. Strictly maintain the normal operation system of the kiln, such as temperature system, pressure system, liquid level system, atmosphere system, etc., and must not exceed the allowable fluctuation range; often check for erosion, blockage and leakage, especially weak parts, such as feeding Mouth, fluid hole, fire vent, liquid pool wall, upper lattice, flue, etc., in order to find problems in time; strengthen maintenance and maintenance of kiln body damage, such as liquid pool wall, fluid hole, The blasting port, the feeding port, etc. need to be blown by cold air cooling, thermal instrumentation (regular inspection, so that the measured data is accurate and reliable); the hot repairable parts are as hot as possible.
Do you have interested in our refractory materials, welcome connect with us.
上一篇:
Sunrise refractory teaches you how to buy refractory materia
下一篇:
Sunrise Refractory Glass Mold Brick For Sales with Good Ther