Hiah Quality and Low Price High alumina brick Price
High alumina brick is a general term for aluminous refractory brick material with AL2O3 content greater than 48%. It is made of high alumina bauxite and can be produced by chemical bonding or sintering. The calcination reaction is mainly the decomposition of kaolinite, diaspore, and the secondary mullite process.
The production process of high-aluminum bricks and multi-cropped clay bricks is different. The difference is that the proportion of clinker in the ingredients can be as high as 90%·95%. The clinker needs to be powdered in the broken money and sieved to remove iron. The temperature is higher, such as the firing temperature of the tunnel kiln for the first and second grade high alumina bricks is generally 1500~1600 °C. China's production practice proves that high-aluminum clinker is carefully sorted and graded before being crushed, and stored in grades. The use of bauxite clinker and combined clay to grind together can improve product quality.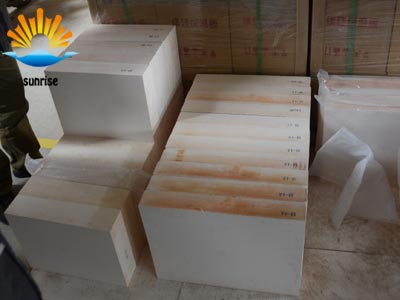 According to the conditions of the resources and the needs of the products, the following types of raw materials can be used: high alumina bauxite composed mainly of hydrous aluminum oxide (gibbite, gibbsite, etc.): sillimanite minerals (including Kyanite, andalusite, sillimanite, etc.) synthetic raw materials, such as industrial alumina, synthetic mullite, fused corundum and the like. China's high-alumina bauxite is rich in resources and excellent in texture. Compared with clay bricks, the production of high-aluminum bricks has the outstanding advantages of high refractoriness and load softening temperature. With the increase of AL2O3 content, the slag resistance is significantly improved.
Zhengzhou Sunrise Refractory as a professional manufacturer with many decades of experience, with the advantages of its own bauxite mine and 6 high-temperature aluminite calcining kiln, always provide high-quality raw materials for users with first-class quality, reasonable price and complete range. product. You are welcome to contact us or visit the factory.
Pre:
Applicable areas and characteristics of refractory castables
Next:
Brief analysis of the performance characteristics of high al